Good Morning!
In our house this morning at 5
am
.
It looks like Liam is awake...
Is he awake, Mom?
Can I hold him?
"Hi little buddy."
And here I was feeling a little vintagy.
Here Liam is learning about the importance of accessorizing.
He's going to love me for this one day.
And then Luke models the Bed Head look
He's good that way.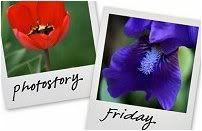 Hosted by Cecily and MamaGeek